Lisbon
Are you planning a trip to Lisbon? If you are, you probably have a lot of questions about the city. Our travel guide includes all the information you need to plan a great holiday in Lisbon.
If you like this guide, don't forget to add it to your favorites.
Why visit Lisbon?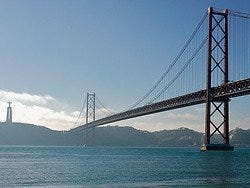 25 de Abril Bridge and Chirst the King in Lisbon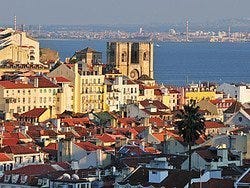 San Pedro Alcántara viewpoint
Lisbon is a fascinating city full of history, monuments, impressive bridges and vintage street cars. And these are just a few of the reasons that make it an extremely interesting city to visit and a place you will want to return to.
In 2016, Lisbon was ranked seventh out of the top ten European cities to visit. Its cheap flights, relative closeness to major capital cities like Madrid, Paris and London, make it an ideal destination for a weekend break.
Visiting Lisbon is relatively inexpensive and you can find low cost flights from the UK for just £30 ($36 – 34€) and hotels from £26 ($32 – 30€).
Where do I begin?
If you've never been to Lisbon before, we recommend you read about its history followed by its neighborhoods and its top attractions. If you are only in Lisbon for two days, check out our 2-day Itinerary of the city.
Need accommodation?
If you still haven't booked your accommodation, we recommend you visit our search engine, where you'll find all kinds of hotels, apartments and hostels with the best rates guaranteed (with up to 75% discount). Moreover, you won't have to pay until you get to your accommodation.
How is our Lisbon Guide different from the rest?
The Lisbon.net Travel Guide is written by travelers for travelers like yourself. It includes useful information on the best things to do, but also the best ways to save money, honest reviews about the various museums and interesting facts about Fado, a Portuguese music genre.
The information provided in this guide was updated in March 2017. If you find a mistake or would like to make a suggestion, please do not hesitate to contact us.
Want to discover other places in Portugal?
If you are planning on visiting other cities in Portugal, why not check out our Porto travel guide?