Belém
Belém is the southwestern most district of Lisbon. Far from the city centre, but easily accessible, is located this neighborhood at the mouth of the River Tagus. Portugal's various explorers set sail from this part of town to other parts of the world and brought back riches and their many discoveries.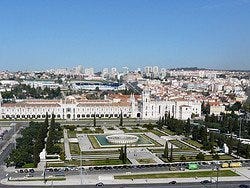 Jerónimos Monastery Monument to the Discoveries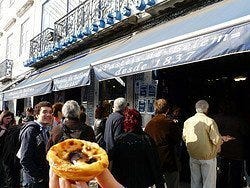 The famous Portuguese pastries
Belém houses two incredibly famous landmarks. The first is Jerónimos Monastery (Mosteiro dos Jerónimos) and the second is Belém Tower (Torre de Belém). In addition, travellers will also enjoy exploring the Monument to the Discoveries (Padrão dos Descobrimentos), the Ponte 25 de Abril and the National Coach Museum.  
Another must when visiting Belém is to stop at Pastéis de Belém, that used to be a small shop attached to a sugar cane refinery, to try its pastéis de Belém, a typical and delicious Portuguese egg tart pastryor custard tarts invented in this small shop in 1837.
Getting to Belém
The easiest way to get to Belém from Lisbon's city centre is to take the tram nº 15 in the Cais do Sodré station, in the Praça do Comércio. It is usually packed with people traveling to Belém.
When you get on the tram, be careful of pickpockets. This is a very popular line for professional thieves since it is always full of tourists.
Getting to Belém by boat
If you prefer to try another means of transportation, we recommend getting a boat from the river station to Belém, Lisbon's gateway to the Atlantic Ocean. The journey offers wonderful views of the city from the Sea.
Location
5 km to the west of the city centre.
Map
Hotels nearby