National Coach Museum
The National Coach Museum (Museu Nacional dos Coches) is a renowned museum in Lisbon. It houses one of the most important horse-drawn carriage collections in the world. All vehicles are from the seventeenth, eighteenth and nineteenth century.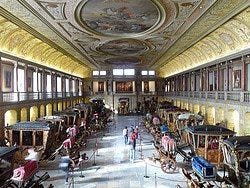 Main hall in the National Coach Museum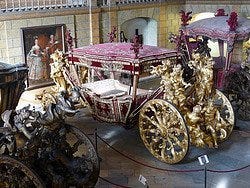 Pope horse-drawn carriage, National Coach Museum
The Museum is housed in an old riding school. It was inaugurated on the 23 May 1905 by Queen Amélia of Orleans and Bragança, Princess of France married to King Carlos I of Portugal. Nowadays, it is one of the most popular museums in Lisbon.
Distinguished horse-drawn carriages
The Museu Nacional dos Coches features some extremely noteworthy horse-drawn vehicles, especially those that belonged to Philip II of Spain (1581 – 1598). They are the oldest of the collection. The Museum also includes three carriages that pertained to Pope Clement XI. The vehicles were constructed in Rome in 1715 and are designed in Baroque Italian style. One of these three coaches stand out, given to John V of Portugal (photo on the right).
The Museum also holds several paintings and other interesting objects from the same period.
Well-worth visiting
The National Coach Museum is a small but unique and charming. It is well-worth visiting. This museum is one of the most surprising in Lisbon.
It is located very close to Jerónimos Monastery.
Location
Praça Afonso de Albuquerque, 1300. Belém.
When to visit
Tuesday through Sunday: 10am to 6pm.
Monday: closed.
Fares
Adults: 6€.
Youth Card and Seniors (over 65 years old): 2.50€.
Children (less than 12 years old):free entrance
First Sunday of every month: free entrance.
Lisboa Card: free entrance.
Transport
Tram: line 15.
Bus: lines 14, 27, 28, 29, 43, 49 and 51.
Train: Belem, Cascáis Line.
Map
Hotels nearby