The National Coach Museum houses one of the most important collections of horse drawn carriages in the world, making this a highly recommended place to visit.
The National Coach Museum (Museu Nacional dos Coches) houses an important horse-drawn carriage collection of vehicles are from the seventeenth, eighteenth and nineteenth century.
The Museum is housed in an old riding school and was inaugurated on the 23 May 1905 by Queen Amélia of Orleans and Bragança, the Princess of France married to King Carlos I of Portugal. Nowadays, it is one of the most popular museums in Lisbon.
Distinguished horse-drawn carriages
The Museu Nacional dos Coches features some extremely noteworthy horse-drawn vehicles, especially those that belonged to Philip II of Spain (1581 – 1598). They are the oldest in the collection. The Museum also includes three carriages that belonged to Pope Clement XI. The vehicles were constructed in Rome in 1715 and are designed in a Baroque Italian style. One of these three coaches stands out, given to John V of Portugal (photo on the right).
The Museum also holds several paintings and other interesting objects from the same period.
Well-worth visiting
The National Coach Museum is a small but unique and charming. It is well-worth visiting. This museum is one of the most surprising in Lisbon.
It is located very close to the Jerónimos Monastery.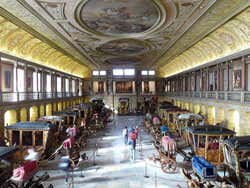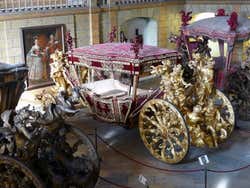 Schedule
Tuesday through Sunday: 10am to 6pm.
Mondays: closed.
Closed: January 1st, May 1st, Easter Sunday, June 13th, 24th and 25th December.
Price
Coach Museum
Adults: € 8 (US$ 8.50)
Children (under12 years old): free
First Sunday of every month: free
Lisboa Card: free
Picadeiro Real:
General entry: € 4 (US$ 4.30).
Lisboa Card: free.