Park of the Nations (Parque das Nações) is a neighbourhood in Lisbon constructed for the 1998 Lisbon World Exposition. It is a modern area, full of life and open spaces.
This is a space that was constructed in northern Lisbon for the 1998 Lisbon World Exposition and is now a beautiful public park. It's accessible by crossing the Vasco da Gama Bridge or by taking any means of transportation that stops at Gare do Oriente (Lisbon East Railway station), situated in this parish. This modern part of Lisbon has numerous restaurants, bars, theatres, parks, pedestrian areas, and a large shopping mall.
One of the most surprising sights in this district is the Oriente train station, designed by the Spanish architect Santiago Calatrava. This modernist station has a bright glass and steel structure in the form of a tree. This ambitious project includes a metro station, a national and international bus terminal, and a high-speed and regional train hub.
Things to do in Parque das Nações
Lisbon's Parque das Nações houses the second largest aquarium in Europe, Oceanário de Lisboa, which is well worth visiting if you're traveling with children. The Vasco da Gama Tower (Torre Vasco da Gama) offers an excellent observation deck with stunning views over Lisbon and the Ocean, and lastly, the Vasco da Gama Bridge is extremely impressive, measuring 11 miles (18 km) long, it's the longest overpass in Europe.
You'll also enjoy visiting the Water Gardens (Jardim das Águas) and the Palm Trees Garden, which are charming and unique.
You can also take a cable car that travels past the Water Gardens, above the river.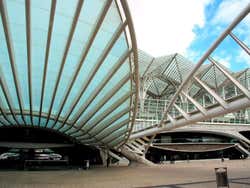 Transport
Metro: Oriente, line B.