Alfama
Alfama is an old, gentle and humble fishing suburb in Lisbon. Located at the foot of São Jorge Castle, between the hill and the Ocean, this neighborhood holds the essence of the city. An area full of aromas and mixed emotions, where Fado was created in the 1820s. If you are not familiar with Fado,  it's the best-known genre of music in Portugal, very melancholic and often about the sea.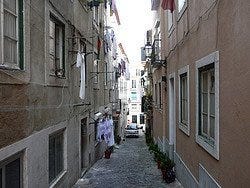 A street in Alfama district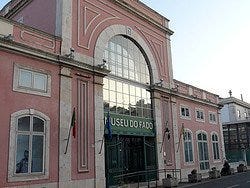 Museu do Fado
The area where Alfama currently sits was already inhabited during the Visigoth period. The Romans also left their stamp with the ruins of a Roman Theatre, built under Augustus during 1 century BC. It is located inside the Cathedral on the Rua da Saudade.  Sadly, most of the Christian churches were destroyed in the earthquake of 1755. 
If you visit the top part of Alfama (near the São Jorge Castle), you'll get some impressive views of the whole neighborhood which runs down to the Tagus River and its port.
If you want to learn more about Fado music, the Fado Museum is in this part of town. 
Getting to Alfama
Alfama's steep and narrow hills, which have inspired numerous Fado verses, are too restricted for four-wheeled vehicles.
To get to the top part of this unique suburb, you can either walk from the centre or take the nostalgic nº 28 tram, which we highly recommend, as it's a charming and comfortable way of traveling through Alfama. It leaves you at the highest point of Alfama.
Location
On the east side of the Baixa district.
Map
Hotels nearby