Where to Stay in Lisbon
The 1998 Lisbon World Exposition and the fact that Lisbon is among the top ten destinations in Europe, have led the city to open numerous hotels, tourist apartments and hostels, making it easy for any traveler to find accommodation in Portugal's capital city.
Best areas to stay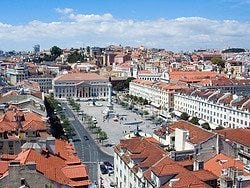 Rossio Square (Pedro IV Square)
The best area to stay at is Avenida da Liberdade, where you'll find abundant restaurants, bars, hotels and plenty of things to do and see.
To be more precise, we recommend looking for hotels or any type of accommodation near Rossio Square (Praça de D. Pedro IV), Praça do Comércio (Commerce Square), or a little further away, in Marquis of Pombal Square (Praça do Marquês de Pombal).
Another perk to staying in this area is that it is extremely well connected to the rest of the city.
Hotels in Lisbon
Although official statics say that hotel prices in Lisbon are similar to other European capitals, we beg to differ, since we've have compared prices and, in our opinion, hotels are less expensive than other major cities in Europe. You can find a double room in a three-star hotel for 60 euros a night.
To find the best deals, we recommend our search engine where you'll find the best rates guaranteed and discounts of up to 75%:
Apartments in Lisbon
Tourist apartments are becoming more and more popular and have become a great alternative to a hotel, especially if you're planning on staying for over a weekend in Lisbon. Check out our search engine, where you'll find the best offers, with important discounts:
Hostels in Lisbon
Portugal's capital has many hostels with beds for approximately 10€ a night. Since there isn't much difference in prices between a hostel and hotel, we recommend directly booking a hotel. If you are traveling with a large group of friends and prefer to book a hostel, we suggest checking the following website out:
Campsites in Lisbon
If you are more of a camping person, Lisbon has several campsites near the city. Check out campsites, availability and prices on Eurocampings.