Lisbon Cathedral, better known as Sé de Lisboa, is the oldest and most important church in the city. Its construction dates back to the 12th century and is predominantly Romanesque in style.
The Cathedral of Lisbon is austere in appearance with a predominantly Romanesque style, although with the alterations made over the years, different styles have been masterfully blended which give it a very special character.
From the outside, the cathedral is protected by thick walls framed by two bell towers, which give it an appearance more typical of a medieval fortress than of a church. The façade still retains its 12th-century Romanesque style and its centerpiece is a central rose window.
Once inside, we'll find a temple that, in the midst of its austere character, has some decorative elements such as the fountain in which Saint Anthony of Padua was baptized, some 14th-century sarcophagi, and a striking 14th-century Gothic chapel.
Looking at the past
Throughout its history, the Lisbon Cathedral has become one of the most important examples of Portuguese fortification, surviving in an exemplary manner and standing tall after being hit with different natural disasters, after which it had to be renovated on several occasions.
The Lisbon Cathedral experienced its worst catastrophe during the Great Earthquake of 1755. On November 1 of this year, the city was shaken to its core in a tragic episode that would destroy much of the city, severely attacking the temple, after which the cathedral underwent a major renovation.
The cloister and ruins
The Cathedral's Gothic cloister is similar in style to the Jerónimos Monastery, although a little smaller.
Inside the cloister, you'll see several remains of its Roman, Arab, and Medieval past, which have been excavated in recent years and have made a profound impact on the history of Lisbon.
There is a small entrance fee to visit the cloister of the Lisbon Cathedral, but the visit is worthwhile and highly recommended.
Treasury
The treasury is located in the upper part of the Lisbon Cathedral, in the sacristy. It's made up of four halls with suits, jewels, and relics from various periods.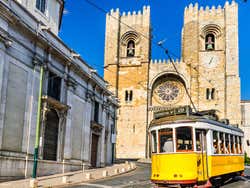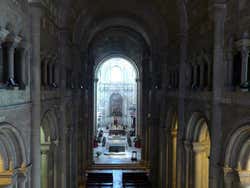 Schedule
Daily: 9 am to 7 pm.
Cloister: 10 am to 6 pm (Sunday from 2 pm). May through September until 7 pm.
Treasury: 10 am to 5 pm. Closed on Sundays and holidays.
Price
Adults: € 5 (US$ 5.30)
Children 7-12 years old: € 3 (US$ 3.20)
Children under 6: free entry