By plane, car, train or bus. In this section we'll go over the best ways to get to Lisbon and how to get to the city center.
Plane 
Travelling from the U.S.
In spring and summer several airline companies offer direct flights from various cities in the U.S. to Lisbon:
Travelling from Canada
Various carriers offer non-stop flights between Toronto and Montreal and Lisbon:
From spring 2017, Tap Portugal offers nonstop flights between Toronto and Lisbon.
Air Canada and Air Transat also offer direct flights during the warmest months of the year.
Travelling from Australia
No airlines fly directly from Australia to Lisbon. The following carriers offer connecting flights between various cities in Australia and Portugal's capital:
Travelling from the UK
If you are living in the United Kingdom and are organizing a trip to Lisbon, there are numerous low-cost carriers from various parts of the country to Portugal's capital. A flight from London to Lisbon takes two hours and a half. 
Easyjet: flies to Lisbon from Bristol, Edinburgh, Liverpool, London Gatwick and London Luton. Return flights can cost £ 70 (

US$

87.50) or less.
British Airways: flies from London Heathrow and in just two and a half hours, you're in Lisbon. Flights cost a minimum of £ 50 (

US$

62.50).
Ryanair: flies from London STN, Manchester, Glasgow. Return flights can cost £60 or less.
If you are landing in Lisbon Airport, check out our article on the best ways to get from the Airport to the city centre: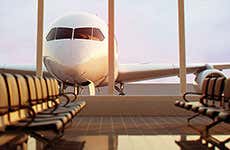 The Aeroporto de Portela (LIS), better known as Lisbon Airport, is the biggest airport in Portugal. Find out how to get to the city centre from the Airport
By Car
If you're exploring the Iberian Peninsula by car, we recommend you use Google Maps. Both Portugal and Spain have good highways, making it easy to get around.
By Train
If you plan to travel around Portugal, you might want to think of travelling by train. A journey between Porto and Lisbon takes 3 hours.
If you are travelling from Spain to Lisbon, you can take a night train that leaves every day from Madrid. The journey takes 10 hours and costs a minimum of € 60 (US$ 64.40). This means of transportation is the slowest and most expensive, but you might prefer it to a plane.