Monument to the Discoveries in Lisbon
The Padrão dos Descobrimentos (Monument to the Discoveries) stands 170 Ft (52 m) tall. This stunning monument was designed to commemorate the Age of Discoveries in Portugal. It was inaugurated in 1960, on the fifth centenary of one of the country's great discoverers, Prince Henry the Navigator, who discovered the Azores, Madeira and Cape Verde.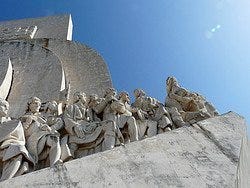 Monument to the Discoveries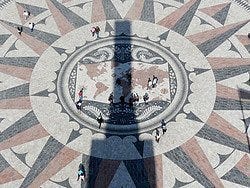 Compass rose from Monument of the Discoveries
The tribute is located on the coast of Belém, near Lisbon and is also very close to other important sights like Belém Tower and Jerónimos Monastery.
The Monument to the Discoveries is made up of a group of sculptures that represent the prow of a caravel (a small sailing ship constructed by the Portuguese to explore the Atlantic Ocean). Leading the ship is Prince Henry the Navigator and behind him are many other great Portuguese discoverers.
The monument's observation deck
If you would like to see Belém from above, we recommend you visit the observation deck on the top of the Padrão dos Descobrimentos. An elevator will take you to the top.
The views of the monument, the city's western neighborhoods are impressive, but the most beautiful view is a marble mosaic at the foot of the Monument that represents a compass, with a world map in the center.
The compass was designed by Cristino da Silva and is 164 Ft (50m) in diameter. It was given to Portugal by the Republic of South Africa.
Location
Coast of Belém, very close to the Belém Tower.
When to visit
October - February: Tuesday to Sunday 10am to 6pm.
March - September: Every day from 10am to 7pm.
Closed: 1 January, 1 May, 25 December
Fares
Adult: 4€.
Youth Card and Seniors (over 65 years old): 2€.
Children (less than 12 years old): free entrance.
Lisboa Card: 30% discount.
Transport
Tram: line 15.
Bus: 28, 714, 727, 729 and 751.
Train: Belem, Cascáis Line.
Map
Hotels nearby