Baixa is the most central and renowned neighborhood in Lisbon, where some of the best shops and leisure activities in the city can be found.
Baixa is the most central and renowned neighbourhood in Lisbon. It was completely rebuilt by the Marquis of Pombal after the earthquake that destroyed part of the city in the eighteenth century. The district has large classical avenues flanked by houses covered in tiles, in typical Lisbon style. Baixa is packed with stores and restaurants and is always busy during the day.
This neighbourhood houses the capital's most emblematic squares and streets. The district starts in Restauradores Square (Praça dos Restauradores), continues up Avenida da Liberdade, through Praça Marquês de Pombal (Marquis of Pombal Square) and from this point forward is considered "Modern Lisbon".  
Avenida da Liberdade
Avenida da Liberdade is a beautiful avenue, just over a kilometre (0,62 miles) long. It's the stateliest avenue in Lisbon, with nineteenth-century buildings and pavements covered in mosaics which form pleasant black and white patterns. It's full of cafes with covered terraces, monuments and gardens.
Restauradores Square
Restauradores Square was given this name to commemorate those who rebelled against the Spanish domination in 1640. In the centre of the square is a large obelisk dedicated to the restoration of Portugal's independence. The beautiful Edén Hotel is located on one side of the square in a striking construction that used to be a cinema.
Rossio Square
Next to Restauradores Square is Rossio Square (Plaça do Rossio), otherwise called Pedro IV Square, which dates back to the thirteenth century. Nowadays, it is the liveliest square in Lisbon, where locals and visitors meet up.
Praça da Figueira and Praça do Comércio
Near Plaça do Rossio is Praça da Figueira. This stunning square has classical buildings and an equestrian statue of King John I. Connected to the Plaza is Rua Augusta, an elegant pedestrian avenue. If you take this street and cross the Baroque Triumphal Arch, it leads you to Praça do Comércio, an astonishing square, which in our opinion is the most dazzling in the city and once housed the Royal Palace. Rua Augusta is flanked by streets that used to be specialized in certain trades, most notably the Rua do Ouro and Rua da Prata: gold and silver streets.
Santa Justa Lift
Halfway between means of transport and tourist attraction, one of the main points of interest that you'll find in Baixa is the Santa Justa Lift (Elevador de Santa Justa).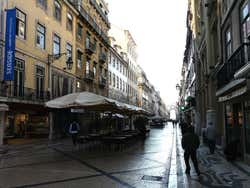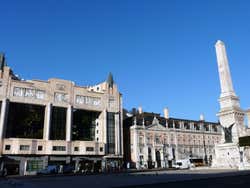 Transport
Metro: Baixa-Chiado, lines A and C.