The Lisbon Metro is one of the most beautiful and best cared-for in Europe: a great way to get to the centre from the surrounding areas.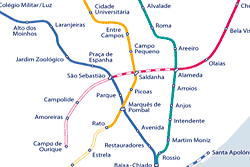 Lisbon Metro Map 
The Lisbon Metro is the fastest way to get around the city and a good option if you're travelling long distances. It is considered to be one of the best-kept and cleanest metros in Europe, comparable to Madrid's subway system. In Portuguese, the Metro in Lisbon is called "Metropolitano de Lisboa".
The subway's first section was opened to the public in 1959. It connected Sete Rios and Entrecampos. During the following years, the metro was expanded, but its most important extension took place after 1988, when the company was nationalized.
Currently, Lisbon Metro has 56 stations and four lines:
Blue (Seagull): Amadora este – Baixa Chiado.
Yellow (Sunflower): Odivales – Rato.   
Green (Caravela): Cais do Sodré - Telheiras.
Red (orient): São Sebastião – Aeroporto.
Operating hours
The Lisbon Metro opens at 6:30 am and closes at 1 am. However, note that some stations close before this time.  
Is it worth using the Metro in Lisbon?
The Lisbon Metro has two drawbacks; the first is that it is difficult to change lines, since there are very few intersections between them. The second is that it doesn't run past some of the most popular tourist attractions in the city or breath-taking neighbourhoods, such as Belém.
These two inconveniences make the subway less useful for tourists. In most cases, you'll find the trams or buses handier and a great way to discover the city.