Oceanarium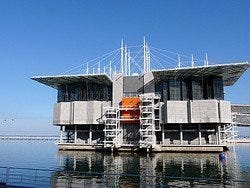 Lisbon Oceanarium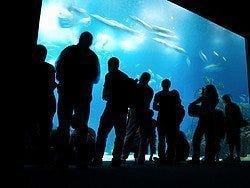 Main aquarium in the Oceanário
The Lisbon Oceanarium (Oceanário de Lisboa) is the second largest aquarium in Europe, after L'Oceanogràfic in Valencia. More than 15,000 water-dwelling creatures of more than 450 different species coexist in its habitat.
Its building is one of the most eye-catching in the Park of the Nations. It "floats" in the Ocean, and can be accessed by crossing a footbridge. During the 1998 Expo in Lisbon, it was called the Oceans Pavilion (Pavilhão dos Oceanos), and was one of the most popular attractions.
Visiting the Oceanarium
The Oceanarium has two floors, and everything rotates around a huge central aquarium. We recommend following the arrows, so that you can visit the marine species from various oceans in the world. The top floor features water-dwelling animals that live closest to the water surface, while on the lower floor you'll find deep-sea creatures.  
The largest aquarium is probably the most impressive part of the Oceanarium. It houses hundreds of species, including several types of sharks, stingrays, manta rays and colorful tropical fish.
A good attraction for children
The Oceanarium is an essential stop if you're travelling with children. Family tickets are available, which give you a small discount.
Location
Esplanada D. Carlos I, Park of the Nations.
When to visit
Summer: 10am to 8pm.
Winter: 10am to 7pm.
Fares
Adults: 14€.
Children (aged between 4-12): 9€.
Senior (over 65 years old): 9€.
Children (less than 4 years old): free entrance.
Lisboa Card: 15% discount.
Transport
Metro: Oriente, Red Line.
Bus: 5, 25, 28, 44, 708, 750, 759, 782 and 794.
Map
Hotels nearby