Lisbon Tram
The trams in Lisbon are not only one of the most useful means of transport to get around the city, but also one of the city's most popular tourist attractions.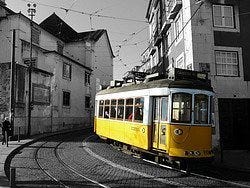 Nostalgic Tram no. 28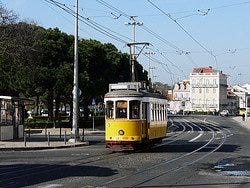 Tram in Lisbon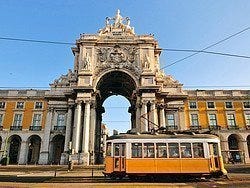 Triumphal arch in Rua Augusta
The capital of Portugal currently has five different routes and 58 trams, of which 40 are vintage streetcars. The heritage trams are small, nostalgic and an emblematic symbol of Lisbon, making great photos.
Tickets on board cost 2.90€. If you have the 7 Colinas Card, tickets cost 1.45€ per journey.
Of the five routes, we recommend two:
Nostalgic Tram nº 28
The nostalgic tram 28 is an institution in itself. This wooden tram will transport you to another era. Its horn rings constantly to warn absent-minded pedestrians to move out of the way when it runs past the city's long and narrow streets.
The tram links São Jorge Castle and Bairro Alto, crossing various picturesque neighborhoods for 6.2 miles (10 km), including Graça, Mouraria, Alfama, Baixa, Chiado, Madragoa and Bairro Alto. Thousands of tourists take this tram every day.
Tram nº 15
The tram 15 is the most frequently used tram in Lisbon because it connects the city center and Belém.
This tram is not romantic. It is useful, modern and is always jam packed with people, mostly tourists. If you take tram 15, keep an eye on your belongings as there are pick pockets.
The tram 15 departs from "Cais de Sodré" station, a large interchange station near Praça do Comércio.
Tram routes map
Check out Lisbon's several bus, tram and metro routes, among others in the following link. They can be a little tricky to understand.