Belém Tower in Lisbon
The Belém Tower (Torre de Belém) was built between 1514 and 1520 in a Manuelino style by the Portuguese architect and sculptor Francisco de Arruda. It was classified as a World Heritage Site in 1983 by UNESCO.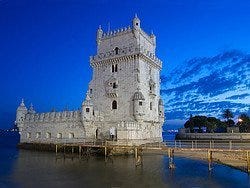 Belém Tower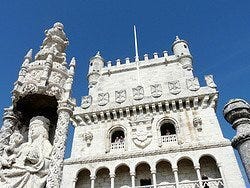 Belém Tower from the inside
Constructed on the northern bank of the Tagus River, this tower was used to defend the city. Years later, it was transformed into a lighthouse and customs house. It is situated very close to Jerónimos Monastery.
Inside Belém Tower
The ground floor of this architectural jewel has 16 windows with cannons. The visit also includes a tour of the pits and holes where the prisoners were thrown into.
The tower has five floors which lead to a roof terrace. Each story is connected by a small and narrow spiral staircase, which, on the busiest days, you have to wait for your turn to climb and descend and is a little overwhelming.
The floors are, from bottom to top: The Governor's Hall, The Kings' Hall, the Audience Hall, the Chapel and Roof terrace.
The rhinoceros gargoyle
On the western façade of the Tower of Belém, you'll find a curious gargoyle in the shape of a rhinoceros. Curiously, the first rhino to set foot in Portugal was in 1513 from India. 
Location
Belém Coast, 6 kilometers west of Lisbon.
When to visit
October - April: 10am to 5pm.
May - September: 10am to 6.30pm.
Closed: Mondays, 1 January, Easter Sunday, 1 May and 25 December.
Fares
Adults: 6€ (+ Jerónimos Monastery, 12€; Jerónimos Monastery + Ajuda Palace: 16€).
Senior (over 65 years old): 50% discount.
Youth Card: 50% discount.
Children (less than 12 years old): free entrance.
Free entrance with the Lisboa Card.
Transport
Tram: line 15.
Bus: lines 27, 28, 29, 43, 49, 51 and 112.
Train: Belem, Cascáis Line.
Map
Hotels nearby