São Jorge Castle
São Jorge Castle (Castelo de São Jorge) is one of Lisbon's most emblematic landmarks. The silhouette of the Castle stands out both by day and when illuminated at night, located on the summit of São Jorge hill, the highest in Lisbon. The hillside also houses two of the city's neighborhoods called Alfama and Castelo.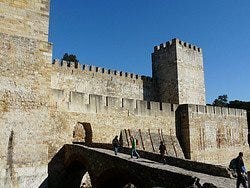 Entrance to São Jorge Castle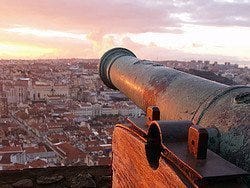 Panoramic views from São Jorge Castle
A small fortress was built by the Visigoths during the fifth century. It was modified and enlarged by the Moors in the mid-eleventh century and during the reign of Afonso I of Portugal (1109 – 1185), it was altered and in later years transformed into a Royal Palace. Finally, it was completely restored in 1938.
The Castle reached its maximum splendor during the thirteenth century and lasted until the sixteenth century, when the edifice was occupied by the Kings of Portugal and the Bishop.
A few years ago, Phoenician, Greek and Carthaginian ruins were found and are currently being uncovered. 
Visiting São Jorge Castle
The visit to São Jorge Castle will take approximately the whole morning since the site is quite big. Apart from the Castle with its eleven towers, you'll also be able to visit a small museum. There is also a bar and a restaurant if you want to stop and have lunch before you continue exploring Lisbon. After your visit, we recommend you take a walk along some of the surrounding streets. Moreover, São Jorge Hill also houses the Lisbon Cathedral. 
The best views of the east of Lisbon await you at the top of the Fortress.
Location
At the top of São Jorge Hill.
When to visit
November - February: 9am to 6pm.
March - October: 9am to 9pm.
Fares
Adult: 8.50€.
Student: 5€.
Children (less than 10 years old): free entrance.
Lisboa Card: 20% discount.
Transport
Tram: Miradouro Santa Luzia, line 28.
Bus: Castelo, line 37.
Map
Hotels nearby