Lisbon Airport Information
Lisbon Portela Airport, also known as Lisbon Airport (LIS), is the largest airport in Portugal and is one of the busiest in Europe.
How to get to the city center from the Airport?
These are the various ways to get from the Airport to the city center: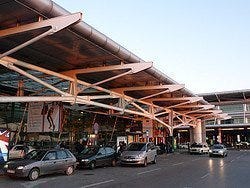 Lisbon Airport
Aerobús: The Aerobús is a shuttle service that links Lisbon Airport to the city center. It consists of two routes, one runs through the city center (final stop: Cais do Sodré) and the other runs through the city's financial district (final stop: Av. José Malhoa). The bus that connects the Airport to the center, departs every 20 minutes from 8 am – 11 pm. A one-way ticket costs 3,15€, although you might prefer to purchase an all-day pass that gives you unlimited access to the city's trams, funiculars and urban buses for just 5 euros.
Metro: Fast and inexpensive. The Metro's recent enlargement links the Airport with the heart of Lisbon. A single ticket costs 1,25€.
Local buses: The transport company Carris offers 5 bus routes between Lisbon Airport and the center. A one-way ticket costs 1,85€.
Taxi: A taxi is a comfortable and relatively cheap way of getting from the Airport to your hotel. It normally costs less than 15 euros to get to the city center. You can purchase a pre-paid ticket in the taxi rank, that way you will know the price before getting in the taxi and avoid possible surprises.
Airport Transfer Service: This is the most expensive option, but also the most comfortable and hassle-free. A chauffeur will pick you up from your Terminal with a sign with your name on it. Book directly on Lisbon.net.
Useful tip
The cheapest way to get to the centre is by purchasing a 7 Colinas Card as soon as you land. You can buy it in the newspaper stand on the second floor.
Charge the card with a 1 day ticket (valid for 24 hours). You can choose what type of transport you want, either local buses and metro, buses, metro and boat, etc, depending on what you plan to do that day.
Location
7 kilometers northeast of Lisbon.
Map
Hotels nearby