Lisbon Neighborhoods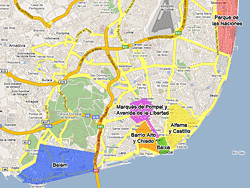 Lisbon neighborhoods
Lisbon is divided into several clearly distinguishable neighborhoods. To really get to know Portugal's capital, you'll need to spend time exploring each one of these districts.
The most renowned neighborhoods are Baixa, Chaido, Bairro Alto, Alfama and Belém. Each one of these districts has its own unique vitality and essence.
In addition to these traditional areas, there are two very modern communes in Lisbon. The first is called Marquess of Pombal Square (Praça do Marquês de Pombal) and its surroundings. The second is the area around the Park of the Nations (Parque das Nações), which was constructed for the 1998 Lisbon World Exposition.