Lisbon Cathedral, better known as Sé de Lisboa, is the oldest and most important church in the city.
The Cathedral's construction dates from the twelfth century and is predominantly Romanesque in style. Its official name is Santa Maria Maior.
Surprisingly, it has survived several natural disasters, like the great earthquake of 1755, which left part of the religious edifice in ruins. Throughout the centuries, the Cathedral has been renovated and rebuilt on various occasions.
The cloister and ruins
The Cathedral's Gothic cloister is similar in style to the Jerónimos Monastery, although a little smaller. Inside the cloister, you'll see several Roman, Arabic and Medieval remains, which have been excavated a few years ago.
The cloister is well-worth discovering, even though you the entrance fee is €2.50.
Treasury
The treasury is located on the second floor of the Cathedral. It is made up of four halls with suits, jewels and relics from various periods.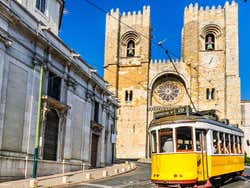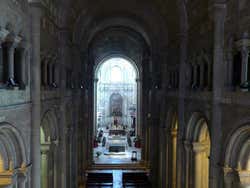 Schedule
All the week: 9 am to 7pm.
Cloister: 10 am to 6 pm (Sunday from 2 pm). May through September until 7 pm.
Treasury: 10 am to 5 pm. Closed on Sunday.
Price
Cathedral: Free entrance.
Cloister: € 2.50 (US$ 2.60)
Treasury: € 2.50 (US$ 2.60)
Cloister and treasury: € 4 (US$ 4.10)
Students: 50% discount.
Children under 11: free